The dazzling Morticia Addams, come in their deep, inky hue and exude an aura of both elegance and intrigue making black such a beautiful color. It's sweet with a hint of scary. This mesmerizing dark bouquet of Black roses with a hint of gold offers a unique and captivating visual that has been crafted to satisfy your desires by our skilled florist. For your table settings or hauntingly beautiful decorations leaving a lasting impression.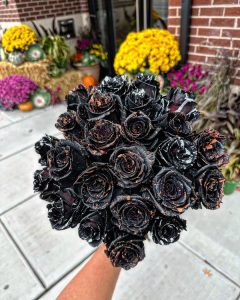 Get this and hope your Halloween fears come true!
Availability: 18 in stock
Want to leave a blazing trail? Get this striking bouquet which features bright yellow sunflowers, different hues cherry brandy, orange roses, burgundy hypericum berries, yellow Solidago, and accented with other bold and bright fall flowers. Get a perfect set crafted by our handy florist. Be sure to get fiery remarks.
This product is available for delivery same day In Nairobi for all orders placed before 4pm Kenyan time. Pickup is available at our location. Jevanjee Koinange Street.
Add water to the bouquet of flowers. For flowers In Vases, Please change the water. The recommended time is after every 3 days.